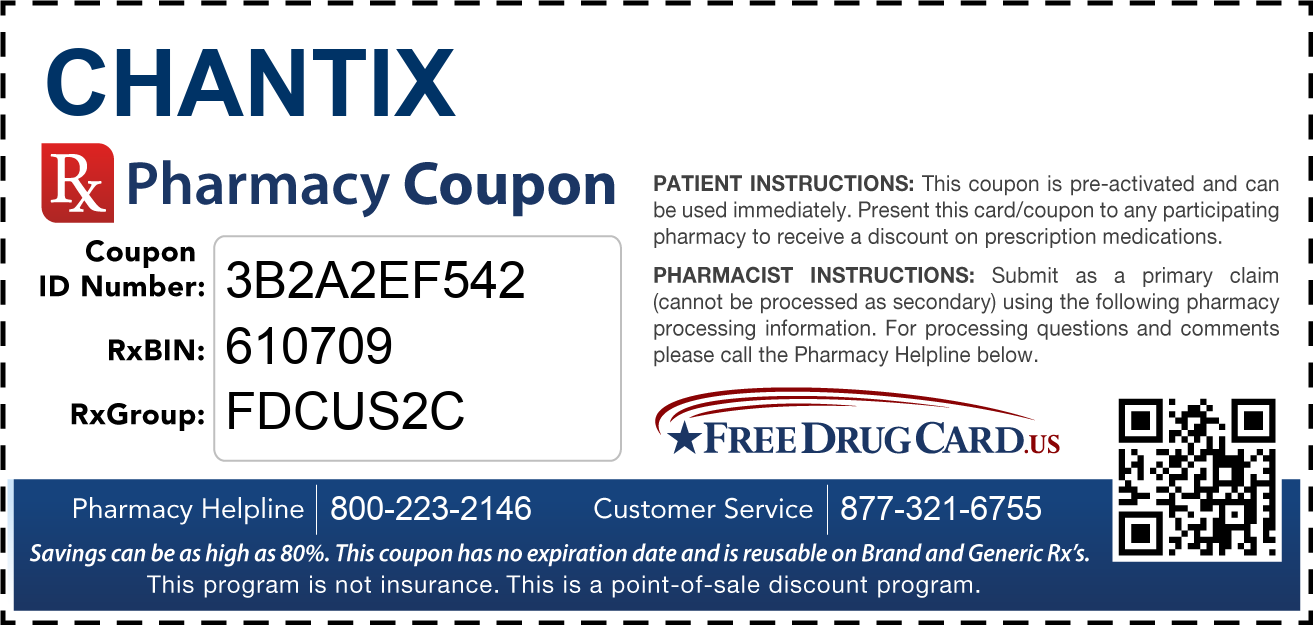 STEP 1: Print or save your free drug coupon.
STEP 2: Bring it to your local pharmacy.
STEP 3: Save up to 90% on your prescriptions!
Chantix (Varenicline) Drug Information
Why is this medication prescribed?
Varenicline is used along with education and counseling to help people stop smoking. Varenicline is in a class of medications called smoking cessation aids. It works by blocking the pleasant effects of nicotine (from smoking) on the brain.
How should this medicine be used?
Varenicline comes as a tablet to take by mouth. It is usually taken once or twice a day with a full glass of water (8 ounces [240 mL]) after eating. Take varenicline at around the same time(s) every day. If you are taking varenicline twice a day, take one dose in the morning and one dose in the evening. Follow the directions on your prescription label carefully, and ask your doctor or pharmacist to explain any part you do not understand. Take varenicline exactly as directed. Do not take more or less of it or take it more often than prescribed by your doctor.
Your doctor will probably start you on a low dose of varenicline and gradually increase your dose over the first week of treatment.
Set a quit date to stop smoking, and start taking varenicline 1 week before that date. You may continue to smoke during this first week of varenicline treatment, but make sure to try to stop smoking on the quit date you have chosen. Alternatively, you may start taking varenicline and then quit smoking between 8–35 days after starting treatment with varenicline.
It may take several weeks for you to feel the full benefit of varenicline. You may slip and smoke during your treatment. If this happens, you may still be able to stop smoking. Continue to take varenicline and to try not to smoke.
You will probably take varenicline for 12 weeks. If you have completely stopped smoking at the end of 12 weeks, your doctor may tell you to take varenicline for another 12 weeks. This may help keep you from starting to smoke again.
If you have not stopped smoking at the end of 12 weeks, talk to your doctor. Your doctor can try to help you understand why you were not able to stop smoking and make plans to try to quit again.
Other uses for this medicine
This medication may be prescribed for other uses; ask your doctor or pharmacist for more information.
What special precautions should I follow?
Before taking varenicline,
tell your doctor and pharmacist if you are allergic to varenicline or any other medications.
tell your doctor and pharmacist what other prescription and nonprescription medications, vitamins, nutritional supplements, and herbal products you are taking or plan to take. Be sure to mention any of the following: anticoagulants ('blood thinners') such as warfarin (Coumadin); insulin; other medications to help you stop smoking such as bupropion (Wellbutrin, Zyban) and nicotine gum, inhaler, lozenges, nasal spray, or skin patches; and theophylline (Theo-24). Your doctor may need to change the doses of some of your medications once you stop smoking.
tell your doctor if you have ever had withdrawal symptoms when you tried to quit smoking in the past and if you have or have ever had heart, blood vessel, or kidney disease
tell your doctor if you are pregnant, plan to become pregnant, or are breast-feeding. If you become pregnant while taking varenicline, call your doctor.
you should know that varenicline may make you drowsy, dizzy, lose consciousness, or have difficulty concentrating. There have been reports of traffic accidents, near-miss accidents, and other types of injuries in people who were taking varenicline. Do not drive a car or operate machinery until you know how this medication affects you.
ask your doctor for advice and for written information to help you stop smoking. You are more likely to stop smoking during your treatment with varenicline if you get information and support from your doctor.
What special dietary instructions should I follow?
Unless your doctor tells you otherwise, continue your normal diet.
What should I do if I forget a dose?
Take the missed dose as soon as you remember it. However, if it is almost time for the next dose, skip the missed dose and continue your regular dosing schedule. Do not take a double dose to make up for a missed one.
What side effects can this medication cause?
Varenicline may cause side effects. Tell your doctor if any of these symptoms are severe or do not go away:
nausea
constipation
gas
vomiting
heartburn
bad taste in the mouth
increased or decreased appetite
trouble falling asleep or staying asleep
unusual dreams or nightmares
headache
Some side effects can be serious. If you experience any of these symptoms or those listed in the IMPORTANT WARNING or SPECIAL PRECAUTIONS sections, stop taking varenicline and get medical help immediately:
swelling of the face, throat, tongue, lips, gums, eyes, neck, hands, arms, feet, ankles, or lower legs
hoarseness
difficulty swallowing or breathing
rash
swollen, red, peeling, or blistering skin
blisters in the mouth
pain, squeezing, or pressure in the chest
pain or discomfort in one or both arms, back, neck, jaw, or stomach
difficulty in moving your arms or legs
shortness of breath
sweating
nausea, vomiting, or lightheadedness
slow or difficult speech
weakness or numbness of an arm or leg, especially on one side of the body
Varenicline may cause other side effects. Call your doctor if you have any unusual problems while taking this medication.
If you experience a serious side effect, you or your doctor may send a report to the Food and Drug Administration's (FDA) MedWatch Adverse Event Reporting program online [at http://www.fda.gov/Safety/MedWatch] or by phone [1-800-332-1088].
What storage conditions are needed for this medicine?
Keep this medication in the container it came in, tightly closed, and out of reach of children. Store it at room temperature and away from excess heat and moisture (not in the bathroom). Throw away any medication that is outdated or no longer needed. Talk to your pharmacist about the proper disposal of your medication.
In case of emergency/overdose
In case of overdose, call your local poison control center at 1-800-222-1222. If the victim has collapsed or is not breathing, call local emergency services at 911.
What other information should I know?
Keep all appointments with your doctor.
If you are diabetic, use Clinistix or TesTape (not Clinitest) to test your urine for sugar while taking this drug.
It is important for you to keep a written list of all of the prescription and nonprescription (over-the-counter) medicines you are taking, as well as any products such as vitamins, minerals, or other dietary supplements. You should bring this list with you each time you visit a doctor or if you are admitted to a hospital. It is also important information to carry with you in case of emergencies.
Fewer than 1 out of 1000 patients reported euphoria in clinical trials with CHANTIX. At higher doses (greater than 2 mg), CHANTIX produced more frequent reports of gastrointestinal disturbances such as nausea and vomiting. There is no evidence of dose-escalation to maintain therapeutic effects in clinical studies, which suggests that tolerance does not develop. Abrupt discontinuation of CHANTIX was associated with an increase in irritability and sleep disturbances in up to 3% of patients. This suggests that, in some patients, varenicline may produce mild physical dependence which is not associated with addiction.
In a human laboratory abuse liability study, a single oral dose of 1 mg varenicline did not produce any significant positive or negative subjective responses in smokers. In non-smokers, 1 mg varenicline produced an increase in some positive subjective effects, but this was accompanied by an increase in negative adverse effects, especially nausea. A single oral dose of 3 mg varenicline uniformly produced unpleasant subjective responses in both smokers and non-smokers.
This Coupon is Good for the Following Smoking Cessation Prescriptions:
Chantix
CHANTIX PAK 0.5 & 1MG
CHANTIX PAK 1MG
CHANTIX TAB 0.5MG
CHANTIX TAB 1MG