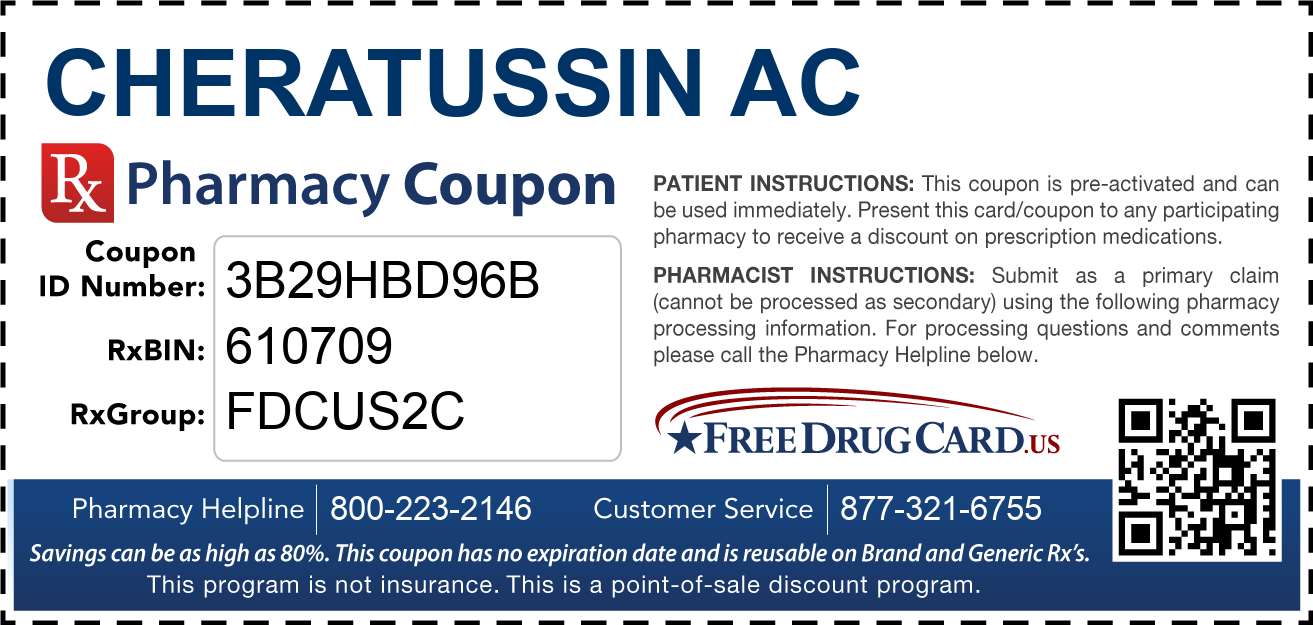 STEP 1: Print or save your free drug coupon.
STEP 2: Bring it to your local pharmacy.
STEP 3: Save up to 90% on your prescriptions!
Cheratussin AC Drug Information
Why is this medication prescribed?
Codeine is in a group of drugs called narcotics. It is a cough suppressant that affects the signals in the brain that trigger cough reflex.
Guaifenesin is an expectorant. It helps loosen congestion in your chest and throat, making it easier to cough out through your mouth.
The combination of codeine and guaifenesin is used to treat cough and to reduce chest congestion caused by upper respiratory infections or the common cold.
Codeine and guaifenesin will not treat a cough that is caused by smoking, asthma, or emphysema.
How should this medicine be used?
Ask a doctor or pharmacist before using any other cough or cold medicine. Guaifenesin is contained in many combination medicines. Taking certain products together can cause you to get too much guaifenesin. Check the label to see if a medicine contains an guaifenesin, or an expectorant. Codeine and guaifenesin may impair your thinking or reactions. Avoid driving or operating machinery until you know how this medicine will affect you. Codeine may be habit-forming and should be used only by the person it was prescribed for. This medication should never be shared with another person, especially someone who has a history of drug abuse or addiction. Keep the medication in a secure place where others cannot get to it. Do not give this medication to a child younger than 4 years old. Always ask a doctor before giving a cough or cold medicine to a child. Death can occur from the misuse of cough and cold medicines in very young children.
Other uses for this medicine
This medication is sometimes prescribed for other uses; ask your doctor or pharmacist for more information.
What special precautions should I follow?
You should not take this medication if you are allergic to codeine or guaifenesin. To make sure you can safely take codeine and guaifenesin, tell your doctor if you have any of these other conditions:
heart disease, heart rhythm disorder;
asthma, COPD, emphysema, or other breathing disorders;
a history of head injury or brain tumor;
epilepsy or other seizure disorder;
a stomach or intestinal disorder;
Addison's disease or other adrenal gland disorders;
curvature of the spine;
a thyroid disorder;
liver or kidney disease;
enlarged prostate; or
a history of depression, mental illness, or drug addiction;
FDA pregnancy category C. It is not known whether codeine and guaifenesin will harm an unborn baby. Tell your doctor if you are pregnant or plan to become pregnant while using this medication. Codeine can pass into breast milk and may harm a nursing baby. The use of codeine by some nursing mothers may lead to life-threatening side effects in the baby. Do not use this medication if you are breast-feeding a baby. Codeine may be habit forming and should be used only by the person it was prescribed for. Never share this medication with another person, especially someone with a history of drug abuse or addiction. Keep the medication in a place where others cannot get to it. Older adults may be more likely to have side effects from this medication.
Liquid forms of this medication may contain sugar or artificial sweetener (phenylalanine). Talk to your doctor before using this form of codeine and guaifenesin if you have diabetes or phenylketonuria (PKU).
What special dietary instructions should I follow?
Unless instructed by your doctor, continue your normal diet.
What should I do if I forget a dose?
Since cough medicine is taken when needed, you may not be on a dosing schedule. If you are taking the medication regularly, take the missed dose as soon as you remember. Skip the missed dose if it is almost time for your next scheduled dose. Do not take extra medicine to make up the missed dose.
What side effects can this medication cause?
Get emergency medical help if you have any of these signs of an allergic reaction: hives; difficulty breathing; swelling of your face, lips, tongue, or throat. Stop taking this medication and call your doctor at once if you have any of these serious side effects:
severe dizziness or drowsiness;
confusion, hallucinations, unusual thoughts or behavior;
urinating less than usual or not at all; or
slow heart rate, weak pulse, fainting, weak or shallow breathing.
Less serious side effects include:
dizziness, drowsiness, headache;
warmth, redness, or tingling under your skin;
nausea, vomiting, upset stomach;
constipation; or
skin rash or itching.
This is not a complete list of side effects and others may occur. Call your doctor for medical advice about side effects. You may report side effects to FDA at 1-800-FDA-1088.
In case of emergency/overdose
In case of overdose, call your local poison control center at 1-800-222-1222. If the victim has collapsed or is not breathing, call local emergency services at 911.
What other information should I know?
Keep all appointments with your doctor.
Do not let anyone else take your medication. Ask your pharmacist any questions you have about refilling your prescription.
It is important for you to keep a written list of all of the prescription and nonprescription (over-the-counter) medicines you are taking, as well as any products such as vitamins, minerals, or other dietary supplements. You should bring this list with you each time you visit a doctor or if you are admitted to a hospital. It is also important information to carry with you in case of emergencies.
Brand Names
Allfen CD
Allfen CDX
Brontex
Cheracol with Codeine
Cheratussin AC
Codar GF
Dex-Tuss
Diabetic Tussin C
Duraganidin NR
ExeClear-C
Guaiatussin AC
Guaifen-C
Guiatuss AC
Guiatussin with Codeine
Iophen-C NR
M-Clear
M-Clear WC
Mar-cof CG
Mytussin AC
Robafen AC
Robitussin-AC
Tussiden C
Tusso-C
This Coupon is Good for the Following Flu and Allergy Prescriptions:
Cheratussin AC
CHERATUSSIN SOL DAC
CHERATUSSIN SYP AC