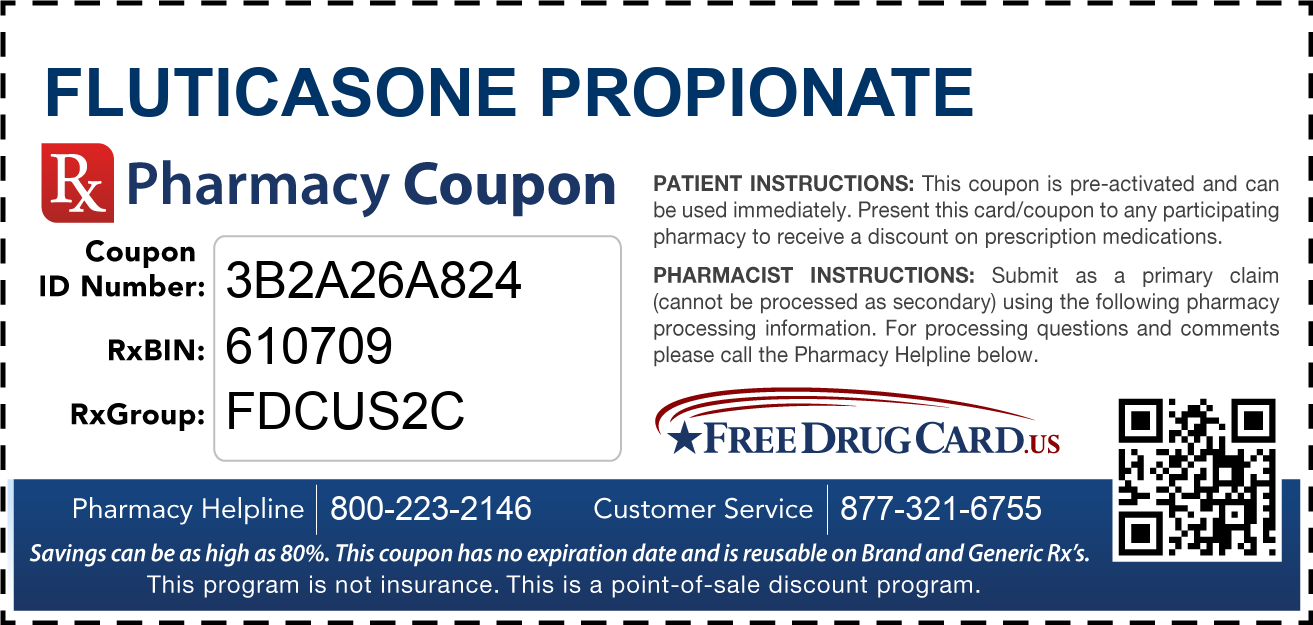 STEP 1: Print or save your free drug coupon.
STEP 2: Bring it to your local pharmacy.
STEP 3: Save up to 90% on your prescriptions!
Fluticasone Nasal Spray Drug Information
Why is this medication prescribed?
Fluticasone nasal spray is used to treat the symptoms of seasonal (occurs only at certain times of year), and perennial (occurs all year round) allergic rhinitis and perennial nonallergic rhinitis. These symptoms include sneezing and stuffy, runny, or itchy nose. Fluticasone is in a class of medications called corticosteroids. It works by preventing and decreasing inflammation (swelling that can cause other symptoms) in the nose.
How should this medicine be used?
Fluticasone comes as a liquid to spray in the nose. It is usually sprayed in each nostril once daily or twice daily in the morning and evening. It is sometimes used only as needed to treat symptoms. Follow the directions on your prescription label carefully, and ask your doctor or pharmacist to explain any part you do not understand. Use fluticasone exactly as directed. Do not use more or less of it or use it more often than prescribed by your doctor.
Fluticasone nasal spray is only for use in the nose. Do not swallow the nasal spray and be careful not to spray it in your eyes.
Your doctor will probably start you on a high dose of fluticasone nasal spray and may decrease your dose after your symptoms are controlled.
Fluticasone nasal spray controls the symptoms of rhinitis but does not cure the condition. Your symptoms will probably not begin to improve for at least 12 hours after you first use fluticasone, and it may take several days or longer before you feel the full benefit of fluticasone. Fluticasone works best when used regularly. Use fluticasone on a regular schedule unless your doctor has told you to use it as needed. Continue to use fluticasone even if you feel well. Do not stop using fluticasone without talking to your doctor.
Each bottle of fluticasone nasal spray is designed to provide 120 sprays. The bottle might not be empty after 120 sprays have been used, but each spray might not contain the correct amount of medication. You should keep track of the number of sprays you have used and throw away the bottle after you have used 120 sprays even if it still contains some liquid.
Other uses for this medicine
This medication is sometimes prescribed for other uses; ask your doctor or pharmacist for more information.
What special precautions should I follow?
Before taking Viagra (sildenafil):
tell your doctor and pharmacist if you are allergic to fluticasone, or any other medications.
tell your doctor and pharmacist what prescription and nonprescription medications, vitamins, nutritional supplements, and herbal products you are taking or have recently taken. Be sure to mention any of the following: amiodarone (Cordarone); antifungals such as fluconazole (Diflucan), itraconazole (Sporanox), and ketoconazole (Nizoral); cimetidine (Tagamet); clarithromycin (Biaxin); cyclosporine (Neoral, Sandimmune); danazol (Danocrine); delavirdine (Rescriptor); diltiazem (Cardizem, Dilacor, Tiazac); fluoxetine (Prozac, Sarafem); fluvoxamine (Luvox); HIV protease inhibitors such as indinavir (Crixivan) nelfinavir (Viracept), ritonavir (Norvir) and saquinavir (Fortovase, Invirase); isoniazid (INH, Nydrazid); metronidazole (Flagyl); nefazodone (Serzone); oral contraceptives (birth control pills); oral steroids such as dexamethasone (Decadron, Dexone), methylprednisolone (Medrol), and prednisone (Deltasone); paroxetine (Paxil); steroids that are inhaled by mouth such as beclomethasone (QVAR), budesonide (Pulmicort), flunisolide (Aerobid), fluticasone (Flovent), and triamcinolone (Azmacort); troleandomycin (TAO); verapamil (Calan, Covera, Isoptin, Verelan); and zafirlukast (Accolate). Your doctor may need to change the doses of your medications or monitor you carefully for side effects.
tell your doctor if you have or have ever had tuberculosis (a type of infection) in your lungs, cataracts (clouding of the lens of the eye), or glaucoma (an eye disease), and if you now have sores in your nose, any type of untreated infection, or a herpes infection (a type of infection that causes a sore on the eyelid or eye surface) in your eye. Also tell your doctor if you have recently had surgery on your nose or injured your nose in any way.
tell your doctor if you are pregnant, plan to become pregnant, or are breast-feeding. If you become pregnant while using fluticasone, call your doctor.
if you are having surgery, including dental surgery, tell the doctor or dentist that you are using fluticasone.
if you have been taking oral steroids such as dexamethasone (Decadron, Dexone), methylprednisolone (Medrol), prednisolone (Pediapred, Prelone) or prednisone (Deltasone), your doctor may want to gradually decrease your steroid dose after you begin using fluticasone. Special caution is needed for several months as your body adjusts to the change in medication. If you have any other medical conditions, such as arthritis, or eczema (a skin disease), they may worsen when your oral steroid dose is decreased. Tell your doctor if this happens or if you experience any of the following symptoms during this time: extreme tiredness, muscle weakness or pain; sudden pain in stomach, lower body or legs; loss of appetite; weight loss; upset stomach; vomiting; diarrhea; dizziness; fainting; depression; irritability; and darkening of skin. Your body may be less able to cope with stress such as surgery, illness, severe asthma attack, or injury during this time. Call your doctor right away if you get sick and be sure that all healthcare providers who treat you know that you recently replaced your oral steroid with fluticasone inhalation. Carry a card or wear a medical identification bracelet to let emergency personnel know that you may need to be treated with steroids in an emergency.
you should know that fluticasone may decrease your ability to fight infection. Stay away from people who are sick and wash your hands often. Be especially careful to stay away from people who have chicken pox or measles. Tell your doctor right away if you find out that you have been around someone who has one of these viruses.
What special dietary instructions should I follow?
Talk to your doctor about drinking grapefruit juice while taking this medication.
What should I do if I forget a dose?
Use the missed dose as soon as you remember it. However, if it is almost time for the next dose, skip the missed dose and continue your regular dosing schedule. Do not use a double dose to make up for a missed one.
What side effects can this medication cause?
Fluticasone may cause side effects. Tell your doctor if any of these symptoms are severe or do not go away:
headache
nosebleed
burning or irritation in the nose
runny nose
bloody mucus in nose
cough
nausea
vomiting
stomach pain
diarrhea
dizziness
Some side effects can be serious. If you experience any of the following symptoms, call your doctor immediately:
painful white patches in nose or throat
flu-like symptoms
sore throat
vision problems
injury to nose
new or increased acne (pimples)
easy bruising
enlarged face and neck
extreme tiredness
muscle weakness
irregular menstruation (periods)
hives
rash
itching
swelling of the face, throat, tongue, lips, eyes, hands, feet, ankles, or lower legs
hoarseness
difficulty breathing or swallowing
wheezing
Fluticasone may cause children to grow more slowly. It is not known whether using fluticasone decreases the final adult height that children will reach. Talk to your child's doctor about the risks of giving this medication to your child.
Fluticasone may cause other side effects. Call your doctor if you have any unusual problems while using this medication.
If you experience a serious side effect, you or your doctor may send a report to the Food and Drug Administration's (FDA) MedWatch Adverse Event Reporting program online [at http://www.fda.gov/Safety/MedWatch] or by phone [1-800-332-1088].
What storage conditions are needed for this medicine?
Keep this medication in the container it came in, tightly closed, and out of reach of children. Store it at room temperature and away from excess heat and moisture (not in the bathroom). Throw away any medication that is outdated or no longer needed. Talk to your pharmacist about the proper disposal of your medication.
In case of emergency/overdose
In case of overdose, call your local poison control center at 1-800-222-1222. If the victim has collapsed or is not breathing, call local emergency services at 911.
What other information should I know?
Keep all appointments with your doctor.
You should clean your nasal spray applicator once a week. You will need to remove the dust cap and then pull on the applicator to remove it from the bottle. Wash the dust cap and applicator in warm water, let them dry at room temperature, and then put them back on the bottle. If the applicator is clogged, soak it in warm water and then rinse it in cold water and dry it. Do not use pins or other sharp objects to remove the blockage.
Do not let anyone else take your medication. Ask your pharmacist any questions you have about refilling your prescription.
It is important for you to keep a written list of all of the prescription and nonprescription (over-the-counter) medicines you are taking, as well as any products such as vitamins, minerals, or other dietary supplements. You should bring this list with you each time you visit a doctor or if you are admitted to a hospital. It is also important information to carry with you in case of emergencies.
This Coupon is Good for the Following Asthma Prescriptions:
Fluticasone Propionate